I am following the blog of Joyce Ann Burton, Philippine representative to the Miss Universe 1985 at
http://adventuresofabeautyqueen.wordpress.com/
.
Today, she talked about the talent competition that took place the other day in Ali Mall. Without Joyce's permission, I am posting the blog entry here.
Please visit also her blog to say thanks to her thoughts
---
Joyce Ann wrote:
The talent showcase of the Bb Pilipinas 2010 was quite entertaining except I was sad to see that only 7 girls competed. It was held at the Ali Mall on Sunday January 30, 2010 at 4 in the afternoon.
It was quite a far cry from how we used to hold our talent contests in the day. They used to be done privately with just the contestant and a panel of judges and special guests. It was NEVER done publicly. I think I like it done publicly though – it gives fans the opportunity to see more of the contestants and makes the girls MORE nervous than ever LOLOL!
So here are my kind thoughts on each of the 7 contestants who competed for Miss Talent in the Bb. Pilipinas 2010 pageant:
As you can see from the photo above, our first talent contestant showed off her gymnastic skills on some super thick mats that needed the strength of 6 men to carry and arrange on stage! 23 year-old Serena Alexis Antonio was into gymnastics as a young girl until she grew too TALL for the sport and then shifted her focus to teaching young children. Serena Alexis Antonio did quite well, but seemed nervous and slightly shakey. She however kept a confident smile throught it all. Can't blame her for being a bit on edge – she was the first to compete and had the extra challenge of trying to warm up the audience at Ali Mall.
Rachel Ann Bustamante is a 17 year-old theatre arts student who can dance. And act! She had a dance number that opened with her doing a hoe-down cum tango dance with a mannequin that BADLY needed a haircut. Or a new wig. Then Rachel Ann Bustmante threw away the mannequin and stripped off her clothes to reveal a sexy belly dance costume (look at her below) and wrapped up her talent number with some wiggly moves that made me wonder if her stomach had 8 joints. VERY ENTERTAINING!
Seventeen-year old Patrixia Shirley Santos who is from Daraga, Albay (Bicolana) performed a monologue (called a declamation piece here) which I found to be pretty brave. I'm not a declamation fan, really, but I do have high regard for people who dare to declaim and survive without the crowd hooting at them. In Patrixia Shirley Santos' case, she definitely survived without any hooting except for one comment I overheard behind me that her piece was a bit too long. Overall, you did a good job Patrixia, maybe acting on TV will be next for you?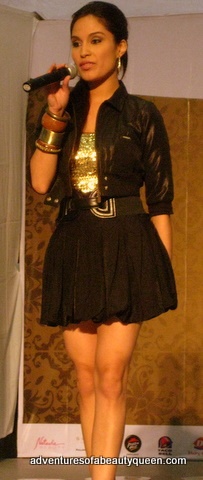 Our fourth competitor in the Bb Pilipinas 2010 Talent Competition was 24-year old Nicole Kaufmann. She came on stage to sing her own composition called "Too Late," an RnB/hip-hop number. As a radio 'veteran' (14 years in the business) I can say that the song is radio-friendly and VERY promising but Nicole Kaufmann sang a bit off key in most parts. Maybe she was just nervous – it is difficult to sing in a huge area packed with gawkers. Nevertheless, the song was AWESOME and Nicole had some groovy moves and we all enjoyed watching her.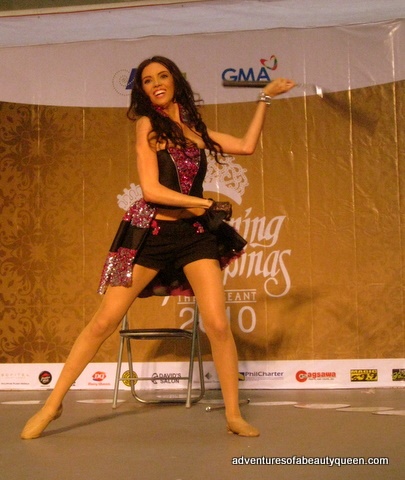 Ay naku if this girl doesn't win Miss Talent, I am a rotting piñata. Krissa Mae Arrieta Kleiner had this wild modern jazz-ish dance that had me nervous for a moment in the last 30 seconds when I thought she landed flat on her face – but she didn't! Part of her dance number included a chako (numb chucks) demo which had the audience CHEERING! Think BRUCE LEE with curves!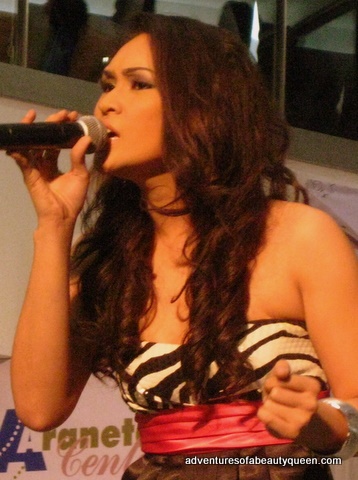 Marie Ysabelle Matubis sang "All My Life" for the crowd which responded to her lovely voice appropriately with a round of applause. During the enitre song intro (about 8 bars I think) she kept waving baby waves at everybody, it was so Legally Blonde!!! But never will the Pinoy spirit fail for karaoke moments – I heard many singing along with Ysabelle Matubis who sings and hosts often at weddings. Pretty voice for a prety girl!
If there were such an award as "BEST LEGS ON A TALENT CONTESTANT," seventeen-year old Dianne Necio would win it hands down. Or feet up? LOLOL!! I loved her costume and her baton twirling as well. Although I think baton twirling is cheesy, Dianne Necio was just too adorable for me to be dismayed. She was pretty deft at twirling the thing and wiggling the rest of herself in tune to the music. Really, just too adorable for me!
That wraps up my thoughts on the Talent Contestants at this year's Bb. Pilipinas. The winner of the Miss Talent award will be announced on coronation night, March 6 at the Araneta Coliseum.
by Joyce Burton Titular, the blogging beauty queen…
krista was the best in talent!

MISS COSMOPOLITAN

Pageant Fan





Posts

: 733


Join date

: 2009-12-01



MISS COSMOPOLITAN wrote:krista was the best in talent!
I've watched the video and I have to agree Krista was the best
Thread moved to Philippines Forum.
_________________
NO ONE EVER CHOCKED BY SWALLOWING HIS PRIDE!!
[You must be registered and logged in to see this image.]

Desi

EP Dean





Posts

: 9465


Join date

: 2009-11-25


Age

: 106
Location : New York/Puerto Rico





Similar topics
---
Permissions in this forum:
You
cannot
reply to topics in this forum